About All Saints Digital Strategy
All-Saints, the British Fashion Retailer, is one of the current companies looking to push the envelope of using digital in fashion.
Their CEO, William Kim, was recruited from digital stalwart, Burberry.  In Feb 2013, Kim did a fascinating interview with the telegraph where he talked about his digital vision for All-Saints.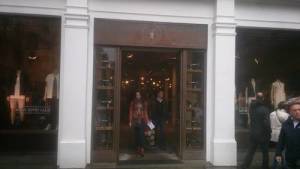 When talking about customers Kim predicted "They will demand "brand experiences" which are unique and not limited to shops and catwalks. Instead, retailers will communicate with consumers through music, facebook, Instagram, SMS, their "urban ideology", or even the feel of their furniture, as well as a dozen other existential takes on ordinary phrases."
Here is an example of one of the methods that All-Saints are using to bring the digital brand experience into store.
In-store Solution Description
One of the simplest ways to get digital content into stores is to just attach a mac mini to a digital projector screen and display it in store.
Works because: 
Its cheap and easy to get up and running.
Doesn't require any specialist maintenance skills – everyone knows how to support a mac.
Can be updated remotely easily
Non- intrusive to the customer purchase experience and can garner attention.
Shopping Phase affected:
1 . Activation
An Example pictured in store: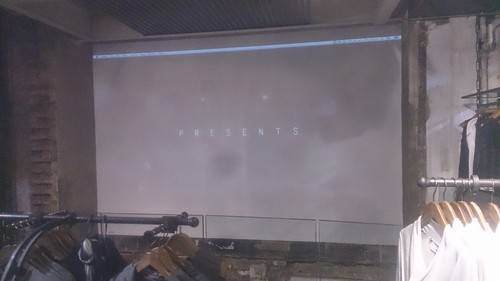 The example in the photo shows the All-Saints store in Covent Garden, which has an impressive 2 story screen that attracts visitors as they descend to the basement floor.
Very impressive display, but All-saints lose brownie points for displaying the mac bar across the top of the screen.  I am pretty sure they will have fixed it pretty quickly, once they noticed it.