Babak Parviz, one of the minds behind Google Glass who has just left the company to be VP at Amazon, has been announced as a keynote speaker at this year's Apps World Europe, from November 12-13 at the ExCeL, London.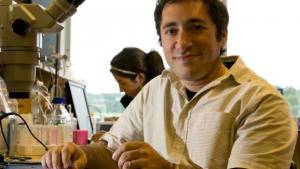 Over the past few days we have been covering a lot about Google Glass.  What could be better news than a wonderful email dropping into my inbox saying that Babak Parviz, the former director of Google X and leader of the Google Glass project will be kicking off the Wearables track at Appsworld in London.  
In his kick off, he will doubtlessly be discussing how he created one of the most intriguing, exciting yet controversial technologies we've seen amidst his many years on the frontline developing human-machine interfaces.
Wearables –  Empowering or Embarrassing?
A lot of conversations have taken place recently as to the durability, effectiveness and invasiveness of Glass. The Chartered Institute of Public Relations recently had a debate as to whether wearable tech was a "nightmare" for PR professionals – the motion was opposed 55 to 28, which means that although PRs are open to the idea, it's certainly not a unanimous verdict. Similarly, back in January two in three people said they would be "too embarrassed" to wear Glass, according to a UK poll.
It's not clear yet what Parviz will be getting up to now that he has joined Amazon.   If the word on the street is right then Amazon's widely derided Fire smartphone is just a starting step for the firm's forays into wearable technologies.   It would be a very natural step for Parviz to go there if they are going to do more. 
Changing Glass for the mass market
Ryan Daws ( DeveloperTech, editor) made the controversial point that Glass won't get mass appeal as it stands unless "serious alterations" were made.
"It's Google's own latest platform, Android Wear, which is the company's current biggest competitor to Glass," he wrote. "That's a problem internally, let alone in the pitch to customers."
Regardless, Parviz's move to Amazon from Google will certainly make for an exciting debate when he gets to the stage at Apps World Europe.
How to see Parviz talk
Parviz will be speaking in the Wearable Tech workshop at Apps World on 13 Nov.
Connectedwindow.com will be at the event and will be looking to showcase the best examples of in store technology
If you want to join us ( and save 15% off your pass use the discount code WEARABLE15 when registering here: http://www.apps-world.net/europe/register/select-your-pass) 
A bit about Appsworld
Apps World also features 6 free to attend workshops including Droid World, Developer World, Enterprise World, Tech World, Gaming World and Cloud Apps World. To find out more and register for free please click here: 
Useful Links
Babak Parviz Links