The first major high street in the world has rolled out iBeacons across every one of its shops. That street is Regent Street, London, UK. So why is the Queen and Crown Estate so interested in this tech? Here's why:

The Crown Estate(owner of Regent's Street) has rolled iBeacons out across all its stores situated on the street.  They have also coincided the release with pushing out their brand new app for Apple devices to take full advantage of the iBeacontechnology. They selected Autograph,  a US based IBeacon technology provider, founded by a British expat, Henry Lawson to take it forward and get it into the hands of the shopping g mad public that frequent the street.
What the heck are iBeacons?
For those of you who don't know what iBeacons are – check out Connected Window's simple and quick guide about what are IBeacons.
iBeacons: What is in it for the Street owner?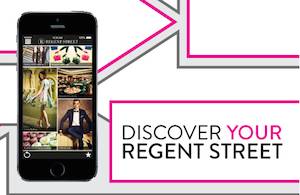 Every year Regent Street is the destination for over 7.5 million tourists and is in the middle of a 20 year long 1Billion pound investment plan to improve the street. Up to now most stores have not had a great deal of ways to understand who were the people coming into the store. Regent street could have invested in feedback surveys or even conducted focus groups but nothing compares with the rich data that can be found using peoples own mobile devices.
iBeacons solve the customer data problem really well and in a controlled way.  They give the ability for the street owners to actually find out who are the people visiting the street and what they are interested in. Not just by asking what they like but by also by collected anonymised data from actual customer behaviour. Priceless!
Even if only a small amount of users actually use the app, it provides a small statistically interesting sample which can help the Crown Estate:
Use big data and customer profiling to analyse what other kinds of stores these customers would be interested in buying from.  The Crown Estate can then use this data as part of their sales process to bring in the right new stores.
To start to understand how many times people come back to the street and to which areas so they can see what stores are driving loyalty.
To start to build up a community of visitors to drive information about events
Most iBeacon software providers will also be able to supply a white label app, so its possible to have an app for very little investment.
Its all About the Stores
With some of the most famous, highest rated and technically innovative stores in the street like Burberry, Liberty, and Apple, Regent's street has an enormous demanding clientele to support.  By being able to provide a better experience and more information to them, they are able to offer a value additional than any other location.
Its not all about offers and discounts
Typically most posts start talking about iBeacons and mention loyalty and discount offers as being the number one reason.  I wanted to illustrate by the above post that actually discount offers aren't the primary reason that a company should roll out a new digital platform. They cost money, they reduce margin and although they drive usage, they are not the primary reason for anyone to invest in digital.
In part 2 of this post – I will talk about the consumer side of the app and why its of interest to us as consumers.
Ibeacons are still so new so to see places in the UK pushing the boundaries makes me immensely optimistic and proud to see innovation just around the corner.
Look out for more this week.
Useful Links:
Regent Street App Launch announcement 
Get the app from Itunes Regent Street Page