L'oreal have released a new amazing app that replicates the in-store makeup counter using an iPhone.   They have been so pleased with the success that they are rolling the app out into their cosmetics counters to digitize the in-store makeup shopping experience.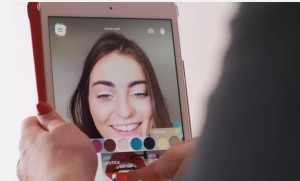 The app uses real time face tracking to allow users to try on a variety of makeup looks which are shown on user's iphones in realtime.  The results are appear to be so realistic that some on social media taking full advantage to shock some of their followers.
@Loreal = #innovation on all fronts! #ladies virtual make-up much? try the #MakeupGenius http://t.co/YzVwNQfw4H pic.twitter.com/OAe61JXiXb

— Alberto Libanori (@AlbiTRDragon) November 5, 2014
You can browse some of the results by checking out the twitter hashtag #makeupgenius
How it works
The app will scan the users face as a once off and the user can then swipe through a variety of "looks" which are applied to the user's face in real-time.  Users can then customise the looks by selecting any of the L'oreal brand products and then saving them or sharing them via social networks.
Supporting In-store
In addition there are various modes to support shopping in store and online.   Users can use the app to scan any advert from L'oreal and add the look to their phone.  Users can also scan barcodes of products to try on the products in store.
Why this app is amazing
There comes a tipping point when digital becomes indistinguishable from reality. The movies have hit it, and now the makeup industry has too. L'oreal's new app is a revolutionary tipping point which means that it actually is possible to buy makeup and have a realistic expectation of what it would look like on.  No need for an in store visit and no need for a makeup expert to apply it.
The pay off for innovation is massive, already this app has  been downloaded more than 1.6 million times around the world.  L'oreal's marketing machine have also been getting behind it with some high profile pushes from celebrities and bloggers.
It's also taken pride of place on the front page of L'oreal Paris' website
What is really clear is that this app is a massive hit with the ladies.  As for me, I am still not quite ready to go the makeup route, but looking at some of the  pictures on instagram, pinterest and twitter, I seem to be in the vast minority of my male compatriots. Who knows maybe I will change my mind.
Until then.. you can download the app for IOS devices from the Makeup Genius App store page