There is nothing worse than being stuck in a queue at a bank when you should be on your precious lunchtime.
Nedbank, the South African retail bank, have added digital to their branch in the Hyde Park Shopping centre in Johannesburg.
What it Does
Nedbank have installed a large LCD screen behind their welcome desk.  It displays the current number of customers in the queue and approximate wait time for:
Sales
Tellers
Collections
As a bonus they also use the screen for displaying sports events to make sure that customers are entertained whilst they are waiting.  Brilliant.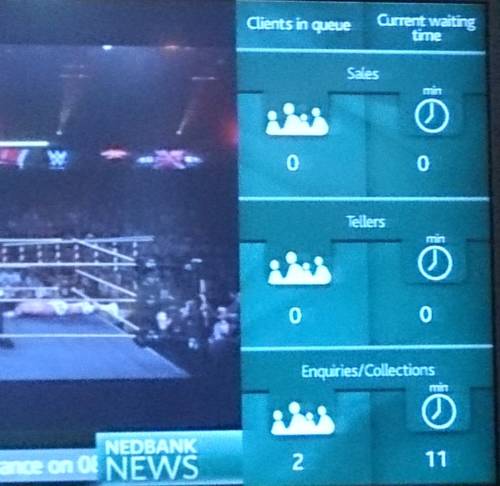 Why it works
Its a very simple solution for a very annoying problem. Customers hate waiting.
Queues manage themselves… Customers can  glimpse at how long they will have to wait to decide if they visit now or later.
Hopefully Branch managers have got access to this data and are using it to plan how best  to deploy staff.
A wonderful and simple technology that is proving really useful according to staff in the branch.