This weekend, in the pursuit of finding even more amazing digital experiences, I took a trip to Argos' new digital store that has opened in Tottenham Court Road, London. I was amazed and impressed by what I saw. Here is why.
First Impressions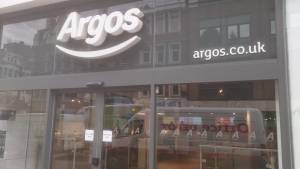 Before you walk into the Argos store, you know that something is up. The store has a fancy new logo and outside there is a guy handing out catalogues to passing people. I assume old tricks work the best.
Once you walk through the door, though,  anything that resembled the old Argos store has been swept away.  You are taken into a completely "out of this world" experience. Any expectation that you have from your old Argos experience is literally left at the door. Customers are greeted by lines of iPads, clean wooden finishes and bright colored LCD Displays. Elements that would be more at home in an Apple Store no an Argos store.
Store Layout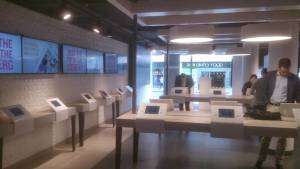 I recall overhearing a staff member saying to another member that some customers walk into the new Argos stores and walk out again thinking that they had the wrong store.  The new Argos  is modern, dazzling and indeed, I would say brash and confident. This is an entirely new Argos that isn't afraid to leave things behind.  The Store is a open plan with rows of Ipad-like Kiosks lined up in rows.  Colours are really neutral and Argos has opted for the white and polished wood finish that Apple have almost trademarked in their store design.
The payment areas are situated in the far end of the store and are color coded to make it clear where the customer needs to go to complete there service, payment or fast-track collection.
LCD Screens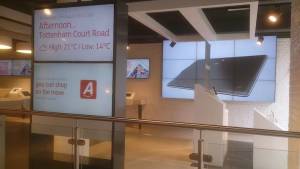 The main standout feature of the store experience is the bevy of digital signage that greets the visitors when they enter the store.  Both sides of the store walls are literally covered with lcd screens displaying instore branding.
One of my favourite features of the store has to be the new welcoming LCD signs. On the right of the entrance as the user walks into the store, there is a set of signs that displays:
A friendly welcome message to Tottenham Court Road store
Fun pictures of the in-store staff introducing themselves
a final nice touch – is the weather around that store.
New Purchase Process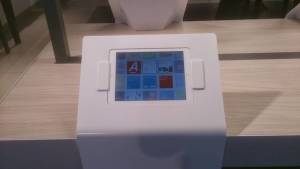 Now that the store purchase experience has been digitized, there are new ways to buy using Ipads.  I will save this for a follow up post, but its clear that the changes that most users can expect are just as radical as the changes that they have made to the in-store experience.
Look out for more videos and posts on the Argos store and if you want to visit one, then check out Argos' store locator
Useful Links
Here is a link to the argos webpage about their Concept store in Old Street, on which these new designs are based.
Finally here is a video of Argos showcasing their new store