The challenge with coming up with new in-store ideas, is that generally most retail stores look at what other stores are doing.  When it comes to technology, we need to look at other sectors which focus on selling to consumers to find the really disruptive ideas.  For me, cruise ships are a massively interesting sector. Here's why: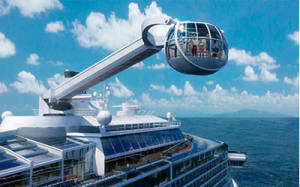 Who doesn't like a cruise.  A chance to get away and hide away from the world.  It looks like cruising is getting smart and  catching up with the world by making sure its guests are even more connected than before.
Royal Caribbean cruise lines recently announced their new "Quantum Class" Cruise ships which promises to be the "smartest" and most connected cruise ships ever created.
Here are some of the technology advances that we can look forward to seeing in 2015 when the ship leaves Southampton.
Check-in Apps with RFID Tracking
Thanks to the "Smart Checkin" App – pretty much all the pre-cruise activities can be done via a mobile phone or tablet, including check-in and uploading a photo.  When guests arrive at the cruise ship, their luggage is RFID(Radio Frequency ID) tagged as is able to be tracked by the app in real time right up to the cabin.
Mobile Apps to manage ordering and booking
M-commerce is going to a new level. These ships look set to be the world's largest mobile commerce experiment and roll out.  There is a smart Concierge app called "Royal IQ" which allows guests to research excursions prior to getting to the destination.  They are also able to book these excursions and other in-cruise activities like spa treatments direct from the app.
RFID WowBands open the ship
Every guest will be given an RFID based "WOWBand" bracelet.   By touching the bracelet onto  key touch points, they will have additional functionality.  Despite the seemingly innocuous name, they are immensely powerful and will allow ship guests to:
Pay for items in the ship
Help them navigate round the ship
Unlock their rooms.
Smart connect High Speed Wifi
The secret power of these new class of cruise ships is the designers taking advantage of near ubiquitous wifi and having internet connection speeds that rival on-shore broadband connections. Using  this foundation of high speed satellite connectivity, designers are able to build a new experience hitherto impossible.
Smart Experiences
Thanks to the technology, the cruise is also able to offer other unique technology based entertainment including an "All-Robot" automatic bar which allow guests to order cocktails via in bar tablets and watch the robots make it live (similar to this MIT Demo).  I was lucky to see this first hand at the Google I/O Conference last year, and it was amazing.
My take on this
Cruising is a massively competitive and pricey way to have a holiday, and seeing how these cruise companies are starting to push the envelope clearly shows that just because people are trying to "get away" its even more important that they keep in touch with their family and friends.
The cruise companies have realized this and are relying on this need to make sure that people are able to connect so that they can use social networks to broadcast all these new amazing and unique experiences that people aren't able to experience normally. Free advertising and social recommendation is just as powerful when its sent from the high seas.
By also focusing on using apps to remove the friction with ordering and discovering ideas to spend money on, the cruise companies are betting on people ordering more, giving them richer data to see whats popular and not needing to invest in as many sales staff to push the excursions.  I think this is a great bet which will no doubt pay off, even if it attracts a new generation of people to try out cruising.
Great Job, next step for us should be to focus  efforts on building a new high street that embraces the same kinds of technologies, and see if we can garner the same degree of benefit and revolutionize even more peoples lives.
We know its possible, we just need someone to take the first step.
Video Summary
Here is a nice Video Summary of the tech as shown by Atlas cruises
Find out more on the Royal Caribbean Quantum Class web page