We recently did a post on Flypay's fantastic instore payment app which was really popular.  Some of you contacted me to say you aren't able to experience it first-hand as you don't have a Wahaca restaurant nearby.  So as you asked, here is a walkthrough of the experience, let me know if you want other walkthrough experiences and I can add it to my growing list of post ideas.
The Flypay app is the latest and greatest restaurant payment experience which I saw when I last visited a local restaurant near my office.  They recently raised 1 million pounds to help improve the restaurant payment experience on mobile.
If you haven't heard about the Flypay app, then feel free to check our showcase post on this link.
The Instore Payment Customer Experience
Once you are done with your meal, you can tap your telephone on the NFC chip or scan the QR code which will take you to the payment page on the app.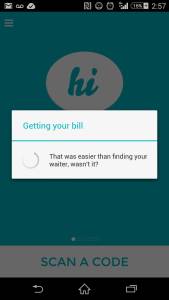 Once that's done, it displays a lovely "getting the bill" screen with a funny message reinforcing the apps unique selling point is that its faster than getting served by a waiter.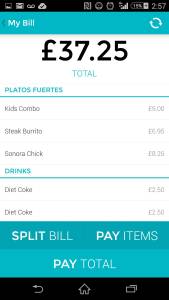 You are presented with your Bill and can choose from a few payment options including Splitting the Bill, and Only paying for certain items.  I opted to just pay the bill.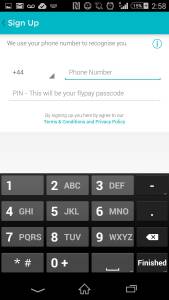 You are given the chance to register and can setup a pin which you can use to make the process faster next time>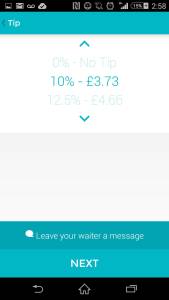 Done.  Next step is the regular restaurant ritual to work out just how nice the staff have been to you and decide their fate via the all powerful tip. We know most of you leave just 10% so we will too.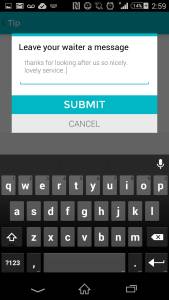 The following step is a brilliant addition to the process by allowing you to leave a message to the waiter which is also viewed by the restaurant manager. I hope that this becomes a really good channel for giving restaurants much needed feedback that doesn't have to resort to a complaining email.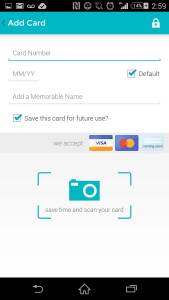 Now we get to the most painful part of any checkout process. The payment bit. Flypay have incorporated a feature that allows your phone camera to extract your credit card number from a picture of your card and automatically fill it in for you. This image recognition library called Card.io is owned by Paypal and is available as an open source tool that can be pulled in easily into other apps for free.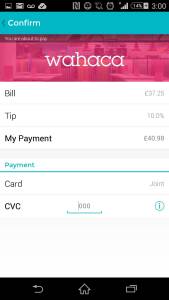 The final steps in the process is to confirm your payment and you are done.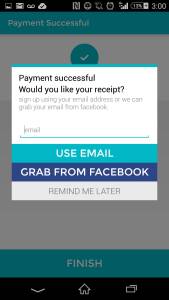 You can request a copy of the receipt via email or choose to be reminded later if you need to dash.
Flypay have made really good use of Facebook here. If you choose you can sign in with Facebook and let Flypay automatically enter your email. Since most users are permanently signed into Facebook anyway, this translates to basically tapping twice on the screen to share your email. Great user experience for those people who value convenience over adding another site to the growing list of apps that have access to your Facebook details.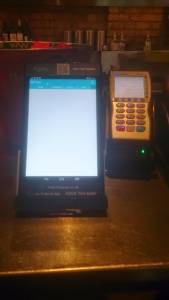 Within minutes you have a receipt in your inbox.  Job done. The waiter will get a notification on their own main restaurant unit which  I have shown it in the picture above.
Thanks to this setup flow, the next time I want to pay, it's just a case of tapping a button and putting in a pin number.  Looks like Flypay's promise to lets customers be "gone in 60 seconds" is pretty close to reality.
I am looking forward to see how they are going to grow and evolve this already great payment experience.
What do you think of the overall experience?