Wembley Stadium have announced the first step in in its digitization of the stadium experience. They have fitted its super famous arch with the world's fastest-response LED lighting system. The arch will also respond to things in the stadium such as crowd noise, goals scored and even social media.
Wembley Stadium is one of the finest stadiums in the world and is one of the unique world landmarks that is embracing technology, thanks partly to its sponsor EE ( The Mobile Network).
The "Arch" Lighting System
Take a look at this amazing video which shows the power and responsiveness of the new arch lighting system.  I love the way that it responds to the music track and really creates a showstopping "Wow" moment that people at the stadium will look forward to seeing.
What kit is used to make the Arch respond to music?
The  lighting system is made up of 228 large-scale LED floodlights which can combine to make potentially millions of colours.  The scale of this lighting is also impressive.  If all these lights were placed from end to end, they would surpass the length of 5 ( that's right 5!) Olympic swimming pools.  Unfortunately, EE would not share how much they spent on the lights.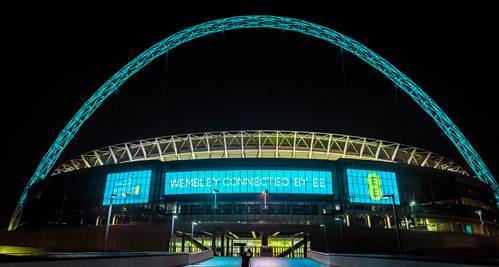 Arch Lighting to be part of the Wembley app?
Currently, the lighting system is still in its early stages.  It will be officially released and  be viewed via the Wembley app's Arch-cam.  The app update is due to be out for England's Euro qualifier against San Marino on 9 October 2014.  There are also due to be other new features released, which allow fans to message the big screen in the stadium and potentially win seat upgrades.  These features will be accessed via an "Event mode" within the app.
Arch to the future
From 2015, the Arch will be be vastly improved and integrated with extra sensors that allow fans will be able to take control of what colors the lights show, using social media sentiment, ie determining if social media posts on a certain hastag are positive or negative.  Look out for future "color" wars where rival fans will joust with social media tweets to try turn the arch the same colour as their football kit.  With some clever uses, I can see the Arch becoming just another facet to a very exciting game.
"This partnership has a very clear vision – we want Wembley to be the world's best connected stadium, showing off new technologies first and giving two million visitors a year the best possible Wembley experience."  Fotis Karonis, CTO at EE
Try it out
To try out the experience and to see it's features head on over to the Wembley App Page. 
Or click below to go to the apps directly