[mks_col] [mks_one_half][mks_pullquote align="center" width="100%" size="24″ bg_color="#dd3333″ txt_color="#ffffff"]Save time and speed up your workflow[/mks_pullquote][mks_pullquote align="center" width="100%" size="24″ bg_color="#1e73be" txt_color="#ffffff"]Keep all your project links in one place[/mks_pullquote][mks_pullquote align="center" width="100%" size="24″ bg_color="#2ecc71″ txt_color="#ffffff"]Add new links easily by dragging them to your OSX dock Icon[/mks_pullquote][/mks_one_half][mks_one_half]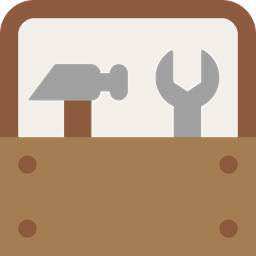 [/mks_one_half] [/mks_col]
Workbench Overview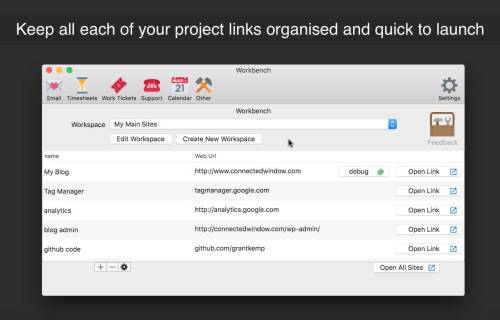 Workbench is a tool for developers, analytics pros, digital marketers  and other web workers who have to use a large number of different links for each project they are working on.
Links for different web environments, various tools, different reports can become a nightmare to manage and vastly increase the time to do basic repetitive tasks.
Workbench's features
Workbench gives you an easy and visual way to keep groups your common links organised in a visual way.
Add links straight from your browser using drag and drop
Organise links together based on your web project
Give a label to each link to make it easy to find.
Send individual links or whole groups of links in one click straight to your browser.
Google Tag Manager Support
Add your debug console link to your workspace and debug with Tag Manager in one click.
Save time and work smarter on your web projects using Workbench!
[mks_separator style="solid" height="2″]
Quickly switch between projects
[mks_separator style="solid" height="2″]
[mks_col] [mks_one_half]

[/mks_one_half] [mks_one_half][mks_button size="large" title="Download It Directly" style="rounded" url="http://connectedwindow-res.cloudinary.com/raw/upload/v1463729001/Workbench.zip" target="_self" bg_color="#000000″ txt_color="#FFFFFF" icon="fa-download" icon_type="fa"][/mks_one_half]
[/mks_col]