I am currently working on an in-store innovation project with a retail brand and one of the terms that keeps cropping up is 'Asset swelling '. Since Google doesn't seem to know about it, I thought I would have a go at explaining it.
Definition
Asset swelling( or sometimes dubbed 'Asset Sweating') is the re-use of content that has already been created or paid for, usually in a different channel or context.
An Example from Marks and Spencer
As an example, Marks and Spencer acquire recipe content for their main Marks and Spencer Recipe site.  This content usually includes text copy which needs to be created, images that need to be created and photographed and then processed to produce the result.   Usually these images would also need to be made into a multiple of sizes and formats to support using it on a tablet, mobile and desktop version of the site.
How this content is swelled
Marks and Spencer have swelled the use of these "assets" by allowing them to be used as part of their Cook With M&S Iphone App and Android App.
This content is used on their Social networks like the Marks and Spencer Facebook page
It is included as part of the Style Editorial content on the Marks and Spencer main website
This content is also used in some of their printed magazines dubbed "Your MandS"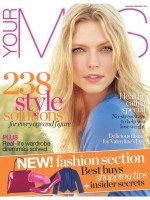 Thanks to asset swelling especially using all the digital channels, that bit of content which used to languish on a recipe card in store a few years ago is now going a heck of a lot further.
Thanks to my friend Nic for the idea.