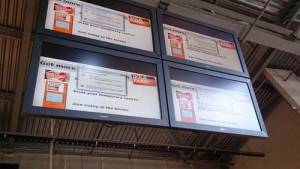 Ikea is the marmite of furniture stores.. people either love or loathe them. For me personally, I have moved from tolerating them to actually kind of enjoying the experience.. but thats the subject of another post.
On my last trip to IKEA in Wembley, North London I realised just how much IKEA have embraced technology to improve efficiency and market to customers.

There is a lot to go through, if you are looking for a good overview, head over to Javelin Groups, Reeta Junankar's review of their in-store technologies. 
For me – I am going to focus on something more innocuous, their welcoming digital signage.
What it does:
The first thing that a customer sees, as they go up the main entrance escalator, is these large set of 4 industrial looking Philips Digital Signage screens.
The signs ( although currently broken) are used to remind visitors to use their "Ikea Family" card  or print a temporary version.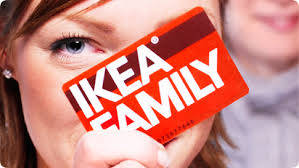 Does it work?
Normally I think it would.  Naturally people are looking up when going up an escalator so seeing this very eye-catching display working across 4 screens would have a very powerful effect.
The entire system appears to run off a Powerpoint slideshow so it doesn't take a huge amount to create new content.
Drawbacks
Sadly it seems that who-ever was in charge of updating the content seems to have stopped half way and left the "download a file" screen open for the world to see.  By doing something simple like building in a web or automatic update system, then IKEA would have done much to prevent this shoddy error.
The second negative bit, is that just because its built on Power point, doesn't mean that it needs to look like a power point slide, with bullet points.  I am sure that someone on the IKEA marketing team has a beautiful slide with lovely clear text which would have us all running to give IKEA our data via their family card… even me.
Summary when it comes to digital signage.. make it easy to update and make it beautiful.  Same rules as online.
Technologies Used
Philips LCD Digital Signage x 4 ( with built in PCs that slide into back of screen
Power point to drive the slide show.
What looks like Windows 7 to power the PC and screen display